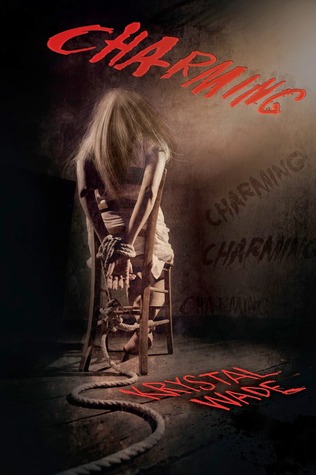 Charming
by Krystal Wade
Published:
October 6th 2014 by Curiosity Quills Press
Pages:
208
They say what doesn't kill you makes you stronger, and that's great... as long as you don't die.
Sixteen-year-old Haley Tremaine had it all: top-notch school, fantastic family, and a bright future, but all of that changed when an accident tore her family apart. Now, an alcoholic father, a bitter younger sister, and a cold headstone bearing her mother's name are all she has left.
Chris Charming has it all: a powerful CEO for a father, a prestigious school, and a fortune at his fingertips, but none of that matters when he lands a reputation as a troublemaker. Struggling to follow in his father's footsteps, he reaches out to the one person he believes truly sees him, the one person he wants: Haley.
Little do they know someone's determined to bring the two together, even if it means murder.
"Thirty-two steps until Haley Tremaine entered hell. Thirty-two steps until she walked into the smell of alcohol and burned microwaveable meals, into a place where fear overwhelmed."
Thank you Curiosity Quills Press for providing me with an advanced reading copy for review.
Actual rating: 3.5 stars
When I first started reading
Charming
, I never expected it to turn out the way it did. I was aware of the Cinderella retelling combined with something much darker - hence the cover -, but I was still surprised in more ways than I first imagined.
Something I appreciated very much was the Cinderella retelling. I've always fallen easily for retellings and fairy tales, especially the two combined. Therefore there was no doubt that I smiled and swooned at the obvious Cinderella references, especially when they were present in the first half of the book. Even though it did start off as a retelling, over the course of the story it quickly grew into something much more than that. The book dealt with much harsher topics than I first imagined, but I can't say I'm not glad the author decided to write about things like child abuse and alcoholism. It added the touch to the book it needed to stand out, something I absolutely love.
The book itself got off to a slow start, where we meet the characters and get insight on their backgrounds. I liked the overall cast of characters who were present in this book. They were all individuals with a personality of their own who just got dragged into trouble they never wanted. On the other hand, I'm actually sad to admit to I didn't really bond with them, with one small exception. For example, I had some issues with Chris Charming.
The book itself is only two hundred pages long, and yet I do think there were plenty of moments where it was possible to learn more about his background. In my opinion there was a lot of telling, not enough was shown. I was told Chris had his problems too, though I still see him as a spoiled rich kid. That also goes for characters like Joce and Christina. The small exception has everything to do with the heroine who holds my heart, Hailey. She went through a lot of character development, to eventually turn into a though girl who won't back down easily. I love her for that.
All of a sudden the action jumped in, and that's where the book convinced me why it belongs in the mystery/thriller genre. Ever since the first envelope I was full of adrenaline and was already guessing who it possibly could be. I came up with the strangest theories. After all, no one is to be trusted in books like this. It kept me excited and my attention was focused on the pages at all times when reading, and that doesn't happen very often.
I'm not sure what to think of the romance between Hailey and Chris. I found it to be quite unrealistic and jumped out of nowhere. It did cause cute and fluffy scenes, something I saw as a good escape from the general dark tone of the book. In normal cases I don't normally root for this kind of romances, and that's why I'm surprised I like this one. Do mind the like and not love, because there were moments when their relationship rather came across as a plot device and felt forced than an actual relationship between two teenagers.
Charming
has everything that made it stand out from other retellings. It was scary, contained blood and gore but also fun characters and a fluffy romance. I'd suggest you pick it up if you're in the mood to read something different.