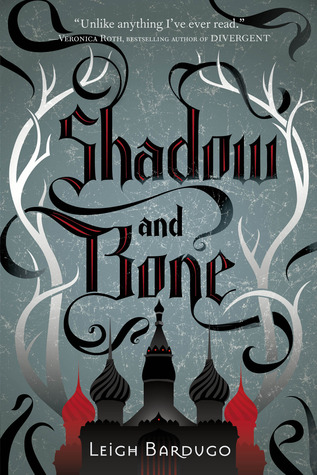 Shadow and Bone
(The Grisha, #1) by Leigh Bardugo
Published:
June 5th 2012 by Henry Holt and Co.
Pages:
358
Surrounded by enemies, the once-great nation of Ravka has been torn in two by the Shadow Fold, a swath of near impenetrable darkness crawling with monsters who feast on human flesh. Now its fate may rest on the shoulders of one lonely refugee.
Alina Starkov has never been good at anything. But when her regiment is attacked on the Fold and her best friend is brutally injured, Alina reveals a dormant power that saves his life—a power that could be the key to setting her war-ravaged country free. Wrenched from everything she knows, Alina is whisked away to the royal court to be trained as a member of the Grisha, the magical elite led by the mysterious Darkling.
Yet nothing in this lavish world is what it seems. With darkness looming and an entire kingdom depending on her untamed power, Alina will have to confront the secrets of the Grisha . . . and the secrets of her heart.
"I've been waiting for you a long time, Alina" He said. "You and I are going to change the world."
Actual rating: 4.5 stars
When I first took a glance at the beautiful cover of
Shadow and Bone
, I couldn't miss the recommendation from Veronica Roth on the top. "Unlike anything I've ever read". I then shook my head with a loud sigh, as I have read countless other books that promised the same thing. Yet when I went ahead and began reading, the book captured my full attention. Not because of a particular character, but because of the complex world I was thrown into. A high-fantasy set in a time period which resembles late 18th century Russia. What's not to love?
With
Shadow and Bone
being the first book in a brilliant trilogy, it is partly a set-up of the world, the story and what's to come. Contrary to other books that chose to follow this slower-paced principle, I did not feel as bothered. The main reason for that has everything to do with the world. It lured me in with ease, as it felt like a breath of fresh air in the tangled web of repeating young-adult literature. It was complex, but everything a high-fantasy lover could want. The combination of the Russian influences and the enchanting Grisha society was my absolute highlight of the book. It immediately created the overall tone that set
Shadow and Bone
apart from others. I may have been overwhelmed by Russian-sounding terms in the beginning, but it was easy to get ahold on as you progress with the book.
Some stories teach us that we can expect the unexpected. Because
Shadow and Bone
's plot was rather slow-paced and primarely filled with world building and explanations, I did not really expect a huge plot twist later on in the book. Once it did, it altered the atmosphere and created lots of suspense. From then on, I started flipping the pages at an increasing speed. A whole lot had fallen into place, and I grew curious to know what could happen next. The book went into a surprising direction, resulting in what I thought was a rather predictable climax. To my surprise, this climax seemed to stretch out until the very last pages. The tension just kept piling up, another plot twist surfaced and before I knew it, I'd finished
Shadow and Bone
with wide eyes and an open mouth.
When Bardugo introduced us to the world of the Gisha, naturally a handful of characters had to come along. Even though the author didn't went too much into backstories, I got the impression that a lot of the characters were fleshed-out and well-developed. It applied to main characters such as the Darkling, but also to secondary characters like Genya, which I loved. It truly shows that everyone has a story to tell, no matter their importance in the story.
The main characters themselves were - besides the Darkling - your typical young-adult heroes. Aline was the fierce, sarcastic young girl who thinks of herself as dull and plain, and Mal the sweet best friend. It was certainly the reason why I applauded the Darkling's personality. He's not your standard character. Totalitarian, charming, dark, power-hungry. It brought along this thoroughly enjoyable, darker, sexier romance which was loaded with palapble tension.
As the overall atmosphere in the book changed because of a plot twist, so did my feeling towards certain characters, and I loved that. It was like the author was playing little mind games with her readers, which certainly kept things exiciting and added that tension for what's to come.
All in all,
Shadow and Bone
is a book I hadn't thought of ever encountering. Not only the intriguing world, but also the story, the characters and the romance were easy to fall for. As I have completely lost myself into the story of the Grisha, I can put this very simply: I'll have my hands on those sequels very soon.