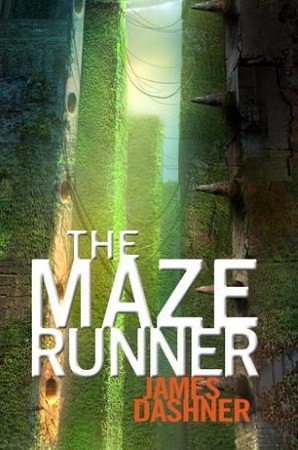 The Maze Runner (The Maze Runner, #1) by James Dashner
Published October 6th 2009 by Delacorte Press
Pages: 374 pages
When Thomas wakes up in the lift, the only thing he can remember is his name. He's surrounded by strangers--boys whose memories are also gone.

Outside the towering stone walls that surround the Glade is a limitless, ever-changing maze. It's the only way out--and no one's ever made it through alive.

Then a girl arrives. The first girl ever. And the message she delivers is terrifying.
"Shouldn't someone give a pep talk or something?" Minho asked, pulling Thomas's attention away from Alby."Go ahead," Newt replied.Minho nodded and faced the crow. "Be careful," he said dryly. "Don't die."
- James Dashner, The Maze Runner
Actual rating: 3.5 stars
There's no doubt about it.
The Maze Runner
is a book which has received a lot of mixed reviews. It's probably the very reason which triggered me into finally reading the book. That, and the fact of the movie coming out in the fall. I was curious to have an opinion of my own, instead of reading countless others to figure out whether to read it or not. Well, my friends, this action-packed adventure novel does seems to have its flaws I couldn't ignore.
I had heard a lot of things about James Dashner's writing style. How he, unlike many other authors, isn't really concerned about the emotions of his characters but rather just tells how they feel. It's something I was bothered with through the whole book and just couldn't get used to. Also the fact that he sometimes goes way too much into detail was kind of frustrating at times. Sure, it can be nice to use many details because it builds up the tension and excitement. However, there were other chapters where it was completely unnecessary and gives the tendency to skim a page or two. The real issue I had with the writing style can easily connect to the characters in general: the way of talking. It just really frustrated me sometimes. It felt like the way they talked was the only thing I could use to know who was who. Newt was the one who seems to like the word 'bloody' a bit too much, which resulted into saying it way too many times I eventually lost count. Alby was the one with the southern accent, and Chuck was the one who talked normally.
So what the writing did to the characters was nothing good. Because the only difference they had was the way they talked, led me to believe there wasn't anything special about them all. Did they even have a personality of their own? They all behaved so much like each other. Bossy, wanting to be independent and aim at the leader's position and above all, aggressive for no particular reason. When I was finished, I started to skim through the pages, looking for character development because I think I missed some. Thomas was a frustrating protagonist and a little too Marty-Stu for my liking. His actions were just so unrealistic, as if a sane person would throw himself into dangerous situation just for the sake to save others he barely knows. His relationship with Teresa also seemed to involve that typical but subtle insta-love/lust, so I have a very clear view of where this is heading. Looking at every character overall, I think I only cared for Minho and Chuck. But then, a random event occurred. I'm still trying to figure out why in the world that was necessary.
I feel like a bad person for writing such negative paragraph's, because I did enjoy the book. The plot itself is original in so many ways. It's extraordinary and nothing like I've heard of before. It felt like a perfect combination of the Greek myth of the labyrinth and the dystopian vibe. There was mystery from the first pages where my questions started to pile up without really getting answers. That didn't bother me as much as the others, party because I read
The Maze Runner
so quickly I honestly did not have the time to be frustrated. Piece by piece, the mystery around the maze is slowly starting to unveil itself. I was just really interested in it all, so you could say my mind was blown to bits when I found out the truth. After two years of intense research, it had to be Thomas who brought along the final piece of the puzzle? They never found out? It's unexpected, sure, but I expected something more from guys like them.
About the ending, I like to split it up into the last information we get before the epilogue, and the epilogue itself. The first part was a little weird, or is it just me? I didn't find it fitting to the feel I'd gotten while being in the Glade. It was like a mash-up of a plague and a fantasy world full of unicorns. Maybe it will get clearer once I'll get to read the sequel, because now information was kind of thrown in there to then move on with the story. Now, the epilogue itself was a whole lot better. I'd love to call it a perfect cliffhanger, because it was one. It's subtle, yet opens up a whole new story for the sequels to continue with.
In a nutshell, I would
The Maze Runner
as an action-packed, incredibly fast-paced novel with a plot I'm invested in, had meh characters and writing that needs some getting used to. Although I feel like The Maze Runner series is going to be one with lots of questions and little answers, I'm definitely up for it.