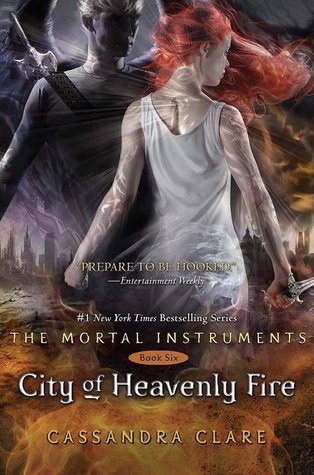 City of Heavenly Fire (The Mortal Instruments, #1) by Cassandra Clare
Published May 27th 2014 by McElderry Books
Pages: 725 pages

Darkness has descended on the Shadowhunter world. Chaos and destruction overwhelm the Nephilim as Clary, Jace, Simon and their friends must band together to fight the greatest evil the Nephilim have ever faced: Clary's own brother. Sebastian Morgenstern is on the move, systematically turning Shadowhunter against Shadowhunter. Bearing the Infernal Cup, he transforms Shadowhunters into creatures of nightmare, tearing apart families and lovers as the ranks of his Endarkened army swell. Nothing in the world can defeat Sebestian; but if they journey to the realm of demon, they just might have a chance.

Lives will be lost, love sacrificed, and the whole world will change. Who will survive the explosive sixth and final installment of the Mortal Instruments series?
"That's what happens when you fall. Everything that was bright about you becomes dark. As brilliant as you once were, that's how evil you become. It's a long way to fall."
- Cassandra Clare, City of Heavenly Fire
I have no words. I have no words to describe this book. If I have to use one, it would be perfection. I laughed, I cried. I was anxious throughout the 725 pages, hoping no one I loved would die. City of Heavenly Fire lived up to all my expectations, with a few exceptions. It is the perfect conclusion to a thrill ride of a series I'll never forget.
When it comes to discuss a book by Cassandra Clare, I always like to make up lists of what I think is going to happen and when I've actually read the book, compare my list to what has been written. There are times when most of my expectations resemble to the final outcome. Never has it been that I only got one thing right. You can say Cassie has managed to surprise me in various ways. One was to believe everything everyone said about what might happen, and I certainly did when it came to this book. The theories of Camille being still alive, of Magnus's father being Lucifer, that Jace would die, they always put me in such a state of shock. All these and countless others sounded so logical in some ways, it just couldn't be that it won't happen. I won't be a spoilsport and say if some of these are actually right, but in the end, it was still me and my list with one right guess. Let's just say, everything you think will happen won't, and there are always surprising twists and turns you would never have expected.
The plot is outstanding when you compare it to the books, but reminded me a lot of
City of Glass
. One was supposed to be the end of a trilogy, and I do think it was hard to come up with a book as perfect, especially when it all comes down to this one. However, I wasn't surprised when I got everything I wanted. Maybe I had these crazy theories I wanted to be true, yet if that was the case this book probably wouldn't have been less than a thousand pages. Because
City of Heavenly Fire
is in fact the last book of this series, it all eventually came down to the final scene. Slowly, but not that it caused any struggles with the pacing, it build the climax. Even after I surpassed it, realising the great danger was over, I was so pleased to notice the amount of pages I had left. It didn't leave me hanging and certainly managed to give me the wonderful feeling of satisfaction. The same way it build up, after the climax Cassie took her time to take things easy. After all, what happened at what I thought was the end, was something I cried about. Just when I thought it was over and there was nothing that needed to be done, I was surprised for one last time, and enjoyed it to the fullest.
I don't know if you've read The Infernal Devices, the prequel trilogy to The Mortal Instruments. If you did, go ahead and agree with me when I say that the references in City of Heavenly fire were undeniable. They were there, at every corner, and it just made me so happy. To see old characters return or hear them talk about what they've been through. I was smiling throughout it all. As a reader, I obviously knew what happened and I did found myself screaming sometimes, in the hope they will say something or make some things clear, because they have to. So yes, the prologue was the best thing ever. I found myself crying with joy way too many times for a human to be normal. Everything seemed to be tied together so well in the end, I wouldn't dare to wish for an even better ending, for it doesn't exist.
City of Heavenly Fire
may be the last book in the Mortal Instruments series, but I'm not saying goodbye to the Shadowhunter world yet. Planning on three more series, it's clear that the author has many things in store for us. I can't wait to see and explore other sides of this world I've never seen before. It's always hard to say goodbye to a book I adored, but not when it's actually not over, not yet. The characters we got introduced to will have their roles to play out in the future, and I know that each of them will earn a special place in my heart. Little Emma Castairs and Julian Blackthorn, I'm looking at you. They honestly, had the perfect and adorable relationship that certainly managed to create some light-hearted moments in times of war and darkness. I can't remember how I've been when I was twelve, but I know for sure it didn't even come close to Emma's badass and commited character. Always out there, looking for ways to prove herself at such a young age. I absolutely adored her addition to the book, and I'm looking forward to see her more grown up in
Lady Midnight
. Not only did I love her character, her quotes are worth to remember.
"Heroes aren't always the ones who win," she said. "They're the ones who lose, sometimes. But they keep fighting, they keep coming back. They don't give up. That's what makes them heroes."
The characters we now have known for such a long time all have developed in their own way, and it was beautiful to watch. They have matured, and still were never out of the original character they had in
City of Bones
. Seeing them go was a hard thing to do, especially after reading six books full of them. Isabelle was fierce but let people see her soft side, Clary reckless but will do anything to keep the ones she loves safe, Alec serious but heartwarming and Jace still has his snarky comments. The dreams they had in the realm were on one hand painful to read, but on the other so wonderful. They had their dreams of the futures they wanted. Their wishes that would never be. It really was the one thing that made the characters even more lovable and understanding. They aren't perfect. They all have their flaws and that's what makes them perfect. I hated to say goodbye to these wonderful characters, but I didn't think I could have been better in any other way.
Such as all of Cassandra Clare's other books,
City of Heavenly Fire
was not an exception when it came to romance. This book was full of it. Every romantic scene made me swoon and think about a perfect Shadowhunter boyfriend I'll never have. The author promised us make-out scenes for every couple, and she kept her promise. When reading a scene like that, it made me forget about all the misery and the war. I was focused on two people who love each other, and I couldn't have wished for anything more than that.
I may got introduced to a new, lovely crew of characters for the upcoming The Dark Artifices, but the characters who I left yesterday will be in my heart forever. Thank you, Cassandra Clare, for a book equally fantastic to Clockwork Princess.
Ave atque vale.
Hail and farewell.