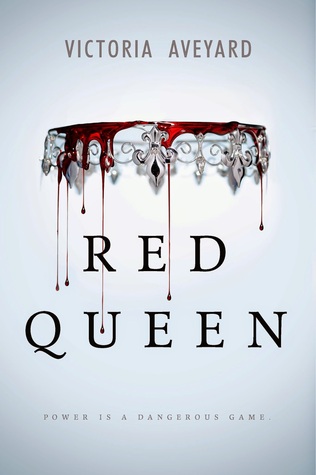 Red Queen
(Red Queen trilogy, #1) by Victoria Aveyard
Published:
February 10th 2015 by HarperTeen
Pages:
383
The poverty stricken Reds are commoners, living under the rule of the Silvers, elite warriors with god-like powers.

To Mare Barrow, a 17-year-old Red girl from The Stilts, it looks like nothing will ever change.

Mare finds herself working in the Silver Palace, at the centre of
those she hates the most. She quickly discovers that, despite her red blood, she possesses a deadly power of her own. One that threatens to destroy Silver control.

But power is a dangerous game. And in this world divided by blood, who will win?
"The gods rule us still. They have come down from the stars. And they are no longer kind."
Actual rating: 3.5 stars
A day after finishing it, I am still reeling from the shock
Red Queen
made happen. The wounds of that ultimate betrayal are still fresh and healing, and I feel like I can't even bring my mind to what has happened. Fortunately, there also are a lot of other things that happened in this book, ranging from fantastic characters to an okay world. Despite some issues I may have,
Red Queen
is a very pleasing and surprisingly enjoyable read.
To start off with a thing I liked less, I am surprised to say that the world has disappointed me here a bit. Contrary to the characters, the world building wasn't very well developed and left some disappointing plot holes here and there. When it comes to its genre,
Red Queen
sometimes felt like a mash-up of books I had read before or things I had seen before. It did not do anything good for the promising world building, leaving nothing besides the Red and Silver blood that made it stand out.
We still encouter a nation suppressed by a ruler with an iron fist, the class system, the poor being treated as slaves, X-Men-like powers, a spark rebellion, etc. I did feel like rebellion, followed by tension and violence, was much present in this book than it did in other series. The methods of the rebelling group, the Scarlet Guard, lean more towards terrorism than anything else. I very much enjoyed seeing that aspect play out over the course of the story.
The plot itself was put together very thoughtfully, consisting of many interesting storylines that kept me on edge and eventually made me fly through the book. It did start out well yet quickly got boring at times and started to drag, when there was actually a lot going on. After a while the pace got better and better because everything was clearly building up to this big event. There may have been some effort needed in order to keep reading, but it payed off. The closer I came to the end of the book, the faster I was reading. Even though it felt like everything was over, I kept thinking to myself that something still had to happen. When I found out I was right, I was already experiencing the aftershocks of that amazing plot twist.
A rather small issue I encountered in the beginning of
Red Queen
, was that I felt a bit irritated by Aveyard's writing style. The way she writes is characterised by an endless stream of comparisons, repetitions and metaphors. I did not think it was necessary to repeat over again how cruel or how rich or what kind of monsters the Silvers are, when it was already shown within the first chapters. Aveyard structured the world to have an immense gap between the elite Silvers and the hard-working Reds. As it was shown that way, it didn't need to be repeated as often as it did. Nor did the Reds need to be compared so much to the Silvers. Some comparisons and metaphors were truly beautifully thought of, but after a while I had enough. Fortunately my irritations stopped somewhere halfway through, because by then I was already too invested in the characters and what was still to come.
Now the characters are absolutely the best thing about this book, and therefore my main reason for continuing with the series. Mare was the typical young-adult heroine you could easily sympathise with, but my eye went out to all the other characters in her environment. As much as Evangeline reminded me of
The Hunger Games
' career tribute Clove, I couldn't help but be fascinated by her. She is that vicious and intriguing character everyone loathes and loves. Evangeline is however one example of many out there. You see the Silvers from Mare's point of view, but it wasn't very difficult to connect with them. They were all well-developed and some even really complex, I cannot wait to see more of them. Sign me up for the sequel