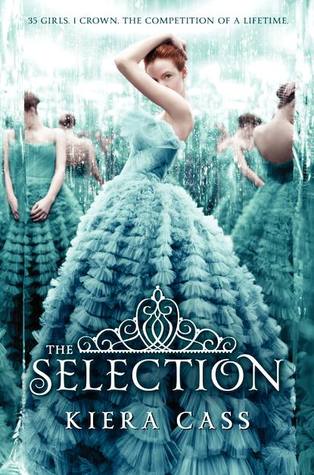 The Selection
(The Selection, #1) by Keira Cass
Published:
April 24th 2012 by HarperTeen
Pages:
336
For thirty-five girls, the Selection is the chance of a lifetime. The opportunity to escape the life laid out for them since birth. To be swept up in a world of glittering gowns and priceless jewels. To live in a palace and compete for the heart of gorgeous Prince Maxon.
But for America Singer, being Selected is a nightmare. It means turning her back on her secret love with Aspen, who is a caste below her. Leaving her home to enter a fierce competition for a crown she doesn't want. Living in a palace that is constantly threatened by violent rebel attacks.
Then America meets Prince Maxon. Gradually, she starts to question all the plans she's made for herself—and realizes that the life she's always dreamed of may not compare to a future she never imagined.
"True love is usually the most inconvenient kind."
Actual rating: 3.5 stars
With the book's release date going all the way back to 2012, I cannot deny that I jumped on this boat way too late. I already knew too much before going into reading, including the final outcome and the entire world building. I gathered that
The Selection
is a book you either love or hate, but it did not turn out to be like that at all. Maybe I'm just that special snowflake, yet despite my prejudices and eventually my issues, I actually quite enjoyed it.
Starting off: the predictability of the plot. Of course, I already knew a lot of the world building upon going into this book, but the plot was mainly unknown territory. Unfortunately, I foresaw so much that happened without having to have a psychic ability. It was clear from the start who would get chosen, and what would happen next. When something rather unpredictable did happen, I mostly just sighed because I should have seen it coming. However, the way things ended could create a very interesting plot to follow. I certainly hope Cass can grant my little wish for the books to come.
As far as the predictability goes, so does my negativity about the story.
The Selection
's plot is surprisingly unique and more original than your average dystopian book. Think of
The Hunger Games
,
Divergent
,
Legend
,
Delirum
, and so on. They all have one thing in common: a girl who stands up to an evil and oppressing regime. Usually seen from the point of view of the rebels, the series is a journey to start a rebellion. That is what I absolutely loved about this book. Of course, the rebels are palpable and the world isn't something I would want to live in, but it didn't seem to fit into this category. We barely saw anything of the king, nor extreme poverty, so the regime itself did not feel as bad and oppressive. The most specific reason, however, is because the protagonist does not stand with the rebels and believes in the caste system. It created a whole new look on rebels and their actions, as they are now seen as 'the bad guys'. I honestly cannot wait to see what they'll bring.
The caste system itself was by far my favourite aspect of the world building. I for one loved how there was a subtle inspiration of India's caste system. It showed that these kind of things could still happen today or in the near future, which is quite terrifying. The thought that one innate feature could determine your whole life is intriguing, which also played out very nicely in
The Selection
. A large part of Illéa's population seems to be okay with the whole caste system, and believe that it is their duty and destiny to do what they're supposed to do. That's why the caste system also had a lot of impact on the choices made throughout the book. I liked how believable it sometimes was, and it definitely sparked my interest to keep on reading.
Moving onto the world building, there's no denying that the author hasn't outdone herself. The book has been pitched as '
The Hunger Games
meets
The Bachelor
', and I cannot but agree. We may have seen certain aspects that have been done before, yet there was so much to discover than a simple competition. I am quite the sucker for kingdoms, kings and queens, princes and princesses, etc. It's more than logic that I would therefore love the setting and overall tone of the story. It's girly and light read, with some serious topics here and there.
I feel like I only have one thing to say when it comes to the characters: America Singer. Ladies and gentleman, meet your average Mary Sue who has it all, including a silly name. She didn't frustrate me as much as I thought she would, though it was laughable at times. The examples are endless, but especially the trying of not to come across as perfect. She's a Five, a lower caste, but she knows exactly how to behave as a One. She's constantly saying how flawed she is, but there's no evidence that actually proofs it. She's not all bad either: I did secretly love how she had a strong opinion and clearly did not want to lead a life inside the palace's walls.
The romance itself was overwhelmed by the love triangle. Thanks to all the hype (and spoilers) surrounding this book, I already knew about the ménage à trois. It didn't stop me from being excited and devouring it all. Even though I know the outcome, I couldn't help but root for my favourite couple: Maxerica. More does not to be said.
In a nutshell,
The Selection
was a fun little ride to experience. I did came across some issues along the way such as predictability and a Mary Sue, but I tend to forgive too easily. Especially because of the original world, which really set it apart from other books in the dystopian genre. Hopefully, the rest of the series will be as fun to read as this book
was for me.