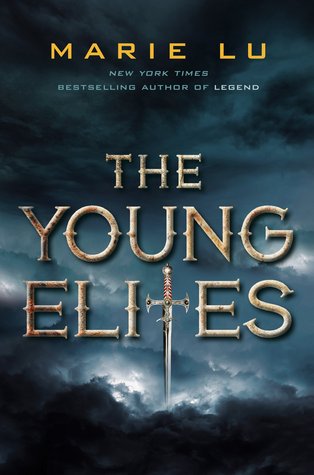 The Young Elites
(The Young Elites, #1) by Marie Lu
Published:
October 7th 2014 by G.P. Putnam Juvenile
Pages:
355
I am tired of being used, hurt, and cast aside.
Adelina Amouteru is a survivor of the blood fever. A decade ago, the deadly illness swept through her nation. Most of the infected perished, while many of the children who survived were left with strange markings. Adelina's black hair turned silver, her lashes went pale, and now she has only a jagged scar where her left eye once was. Her cruel father believes she is a malfetto, an abomination, ruining their family's good name and standing in the way of their fortune. But some of the fever's survivors are rumored to possess more than just scars—they are believed to have mysterious and powerful gifts, and though their identities remain secret, they have come to be called the Young Elites.
Teren Santoro works for the king. As Leader of the Inquisition Axis, it is his job to seek out the Young Elites, to destroy them before they destroy the nation. He believes the Young Elites to be dangerous and vengeful, but it's Teren who may possess the darkest secret of all.
Enzo Valenciano is a member of the Dagger Society. This secret sect of Young Elites seeks out others like them before the Inquisition Axis can. But when the Daggers find Adelina, they discover someone with powers like they've never seen.
Adelina wants to believe Enzo is on her side, and that Teren is the true enemy. But the lives of these three will collide in unexpected ways, as each fights a very different and personal battle. But of one thing they are all certain: Adelina has abilities that shouldn't belong in this world. A vengeful blackness in her heart. And a desire to destroy all who dare to cross her.
It is my turn to use. My turn to hurt.
"Everyone has darkness inside them, however hidden."
I'm amazed at how much
The Young Elites
surprised me. Of course, I couldn't expect less from author Marie Lu, whose Legend trilogy knocked my socks off. This book is however the start of a series with great potential. There's no doubt about it that I fell in love with the world at first sight, but I also managed so love so many other aspects of this book it's hard to believe. In short terms, 'The Young Elites' is almost everything how I imagined it would be, and still surprised me in many ways.
Marie Lu got rid of many YA-clichés, it makes the novel stand out even more than it already does. Gone is the annoying but heart-wrenching love triangle. No more female protagonists who are nothing but special. This book takes the high road and still resembles George R.R. Martin's 'A Song of Ice and Fire' series, yet on the aspect of deaths. It's clear that Lu isn't afraid anymore of killing off characters, whether they have a role to play or not. I won't spoil the fun for anyone, but do take my warning: be careful who you get to love. Deaths are so unexpected in this book, it's like anyone could die at any moment. If I may talk about a certain death in this book, I loved that it happened. I really do. There would have been a whole storyline for the character and could have been used for later books. What the author does here is taking a serious risk of killing off a character who could have been a great addition for the rest of the series. This is also the reason why I'm definitely going to be reading the entire trilogy. I'm so curious now to see what happens next.
There's not much to be said when it comes to the romance in
The Young Elites
. It's so light it's barely even palpable. Yet what you do feel, makes you swoon every single time. It started off beautifully and a little predictable, but there's nothing bad to be said. There was obviously no need to fill in the book with only romance and focus the story around it. It came when the book was already halfway through, and from the moment I've read such a scene it made me want more. Though it stayed in the background and still made me swoon, deserves a round of applause.
I don't believe in love at first sight. Then I wonder, when did I then fell in love with the world? A combination of high-fantasy and dystopia with influences from Victorian times, the renaissance and Venezia, what's not to love? In my opinion, this was such a clever thing to do and makes the book even more original. I do have to keep in mind that this is only the first book of a trilogy, and therefore there's still a lot of world building to be done. It's only now that Lu has set the tone of the world for her book, but with much more to come. She's left many other options open for possible adventures and plot twists I won't see coming. I look forward to seeing more of this in the near future.
The characters are especially what made
The Young Elites
so great. Every one of them, ranging from characters who you get to see a lot like Enzo and Rafael, to minor ones like the Daggers or even the Queen, the type of villain you can't but love. The same goes for Teren, although his situation and characters are a little more extraordinary. He's not your everyday villain, so to speak. With each Teren chapter, you'll get to know more about him. Sooner or later you'll discover that Teren is just a young man who does things, either good or bad, for the woman he loves. The woman who manipulates him. He's does what he's been told is his right, and because of that Teren is a character you'll adore. He has a story of his own, and while there's a lot of him you learn in this book, I have a feeling that the next two book will reveal even more.
Adilena was the typical coin with two sides. The side I love and the one which frustrated me on many levels. In short words, she got on my nerves for pretty much the most part of the book, or just the middle part. I loved who she was when the story got off a flying start, and the person she became when the book ended. She goes through immense character development, and I appreciated it. What I didn't love so much was the deal with her sister. I won't go into details because spoilers, but keeping secrets from everyone and being manipulated the whole way through isn't a smart thing to do. I understand the girl had difficulties, but what she did made me want to rip my hair out of frustration. It dragged on for a while and also explains the four stars. I'm crossing my fingers for her to not repeat herself, but looking at the end of the book I have a strong feeling she won't.
When
The Yong Elites
could have been a five-star book, it remains a fabulous start for a series just as good as
Legend
. The story started off amazingly and the ending left me wanting more. I'm in love with almost every character, and I long to discover the unique world Lu has created. I'll be anticipating this more and more with each book to come.