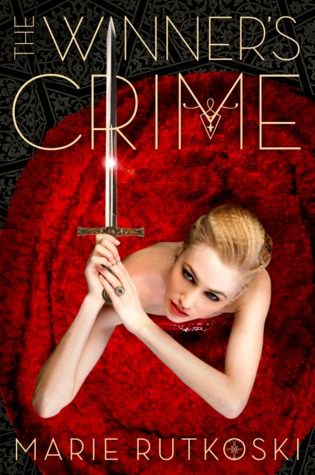 The Winner's Crime
(The Winner's Curse, #2) by Marie Rutkoski
Published:
March 12th 2015 by Bloomsbury Children's
Pages:
368
Lady Kestrel's engagement to Valoria's crown prince calls for great celebration: balls and performances, fireworks and revelry. But to Kestrel it means a cage of her own making. Embedded in the imperial court as a spy, she lives and breathes deceit and cannot confide in the one person she really longs to trust ...
While Arin fights to keep his country's freedom from the hands of his enemy, he suspects that Kestrel knows more than she shows. As Kestrel comes closer to uncovering a shocking secret, it might not be a dagger in the dark that cuts him open, but the truth.
Lies will come undone, and Kestrel and Arin learn just how much their crimes will cost them in this second book in the breathtaking Winner's trilogy.
"If you won't be my friend, you'll regret being my enemy."
Thank you Bloomsbury Children's for providing me with an advanced reading copy for review.
Actual rating: 3.5 stars
I don't think I'll ever be able to explain in detail how different
The Winner's Crime
from the previous installment in Rutkoski's trilogy,
The Winner's Curse
. Though it's still the same story, the tone of this book is so much darker and involved a lot more conspiracies and back-stabbing. At parts I loved with while others were lacking. It actually turned out to be an okay read for me, but I can't shake off the feeling of knowing there are still great things to come.
The flaws I first mentioned in my review of
The Winner's Curse
had a lot to do with the pacing and the course of the story. There is nothing wrong with the story on its own. I loved it. In my opinion the first book felt like it was the absolute base the trilogy needed to continue, and that the second book would do very well in enriching both the world and the story. It absolutely succeeded in doing so. The overall tone of this book was much darker and throughout the book there was a sort of atmosphere where anything could happen. The stakes were almost at their climax and kept building upon each other as the story progressed. There was no such thing as certainty of what could possibly happen next. Also the world developed in a way I would not have expected. A sneak-peak is given to discover a completely different area of Rutkoski's world which had nothing to do with Herran or Valoria, and therefore it was something thoroughly enjoyed reading.
The pacing in the first book
is nothing compared to the one in
The Winner's Crime,
and I don't necessarily mean it in the most positive way. I had my reasons for not being annoyed too much by the slow pace, as most fantasy novels require patience in order to completely become invested with it. At one point in the book, my patience shattered in tiny pieces and flew all over the place. There wasn't anything that made me want to finish it in one sitting. Skimming the book wouldn't do much good either, as with Rutkoski's books it's necessary to be fully concentrated. That it also the reason why I took almost an entire month to finish it. In some ways I could say the pace ruined a great deal of the book for me, but there were always other aspects that made it so great again. Such as certain characters.
Now I seriously loved how the two main characters were put in completely different environments, and thus had to deal with way more serious topics than other ones -- like their love affair -- we'd seen in the first book. Kestrel, for example, remains as cunning as ever. Even now when she's in a completely different position, she still knows how to play and even beat her own game. She was sometimes faced with difficulties such as outsmarting the emperor towards the end, but that was one refreshment I adored. It became more and more difficult for her to act wisely, which led to taking decisions that threw the book in a completely different direction. In other words, it could have been my only motive to read on. I may have been frustrated with her when taking risks, as it was already clear from the start there had to be consequences. Then again, I couldn't help myself but to love her.
Arin isn't a character to my heart. No matter how hard I try, I don't think I'll ever be able to connect with the guy. He acted so superiour when he was supposed to be a slave. You could already guess I grew more frustrated with him, as he sees himself as a king now more than ever. In the end I found myself simply not caring what he did, where he went or what risk he took. I'm not too sure if I'll ever end up loving him, because for now it's still a no. I'm therefore more than glad when it turned out the romance aspect of the book had faded to a minimum. I didn't buy their love in the first book, and it didn't improve with the little love scenes they had.
I don't know what to think of the ending. It surely left me in a state of shock and broke my heart. I wanted to scream at my e-reader, simply because that was a marvelous plot twist I hadn't seen coming in a lifetime. Now I cannot even predict in the slightest way where the last book may be going. All I know is that I'm up for a final book filled with political intrigue, back-stabbing and secrets to be revealed.