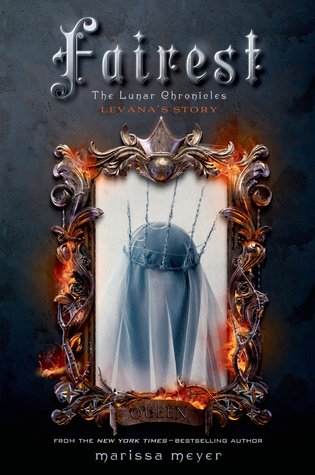 Fairest
(The Lunar Chronicles, #0.5) by Marissa Meyer
Published:
January 27th 2015 by Feiwel & Friends
Pages:
256
Mirror, mirror, on the wall.
Who is the Fairest of them all?
Pure evil has a name, hides behind a mask of deceit, and uses her "glamour" to gain power. But who is Queen Levana? Long before she crossed paths with Cinder, Scarlet, and Cress in The Lunar Chronicles, Levana lived a very different story—a story that has never been told . . . until now.
New York Times –bestselling author Marissa Meyer reveals the story behind her fascinating villain in Fairest, an unforgettable tale about love and war, deceit and death. This extraordinary book includes a special full-color image of Levana's castle and an excerpt from Winter, the exciting conclusion to The Lunar Chronicles.
"Love is a conquest. Love is a war."
Actual rating: 4.5 stars
Queen Levana Blackburn of Luna is easily the most intriguing character out of the Lunar Chronicles.
Fairest
offers the chance to discover her backstory, and see things you've never seen before. As a loyal fangirl to Meyer's writing, it didn't take very long before I started reading this book. It therefore didn't surprise me that I enjoyed every page I read. Be careful: this is a story about how an innocent girl turned into a vicious and ruthless leader, and does what it takes to get what she wants. In other words: it's heart-wrenching.
Because of this book I got to see a side of Levana I'd always dreamed of seeing. When the book starts out she is a weak, naive and sensitive little girl with dreams too big for this world. She dreams of love and being loved. We all know she eventually ends up being the ruler we are all familiar with, yet her character development throughout the novel is simply fantastic and wonderfully done. There are reasons behind her behaviour I didn't expect to encounter in a lifetime. It was fantastic and not-so fantastic to see. Even after all the insane things she does, Levana remains that kind of villain I adore. Clearly she is the kind of character one either loathes or loves. As it's love for me, I loved being in her head to read her thoughts and feelings. After a while I couldn't help but pity her, and I know I'm not the only one.
Besides Levana, there was nothing but love for all the other secondary characters. Even Channary, who I have an extremely complicated love-hate relationship with. For God's sake, she was the most cruel being there is and I cannot imagine the amount of lives she'd destroyed. I could never understand the things she did, and quickly labeled her as the complete psycho who was still, in a twisted and sick way, a captivating character.
As
Fairest
takes place before the events of
Cinder
, we now see what caused Levana's hatred for both Winter and Selene and witness the relationship they had with her. Levana's motivations for causing the supposed death of Selene made of course no sense, and I now wonder what could have happened to Winter after being taken in Levana's custody. All in all, the appearance of the two young princesses in this book added another layer of foundation to Meyer's world, and therefore made my love for The Lunar Chronicles grow even more. As if that was even possible.
Even characters I'd never heard of before
Fairest
, made it quickly into my heart. Solstice was a mysterious and definitely a compelling character. It's like I almost experienced Levana's jealousy towards her, but especially her love for Evret. I don't know what to feel when it comes to these two. There were a lot of scenes in this book that dealt with their complicated relationship. So much I eventually became more stressed out and anxious than Levana herself. All the way through she kept trying to make their relationship work she eventually drowned in their so-called love. Quite depressing, yet absorbing to read.
The story of
Fairest
has to be the best thing about this book. Although a lot of scenes were already known, I loved how those played out before my eyes, and gorgeously written at that. On the other hand, this novel contained a lot of other background stories from Levana's life I had no clue about. Some even brought actual tears to my eyes and made
Fairest
a beautiful read.
In a nuthshell,
Fairest
was exactly the kind of book I needed in the anticipation of
Winter
. It tore my heart out and made me feel all kind of emotions, but I don't regret anything.