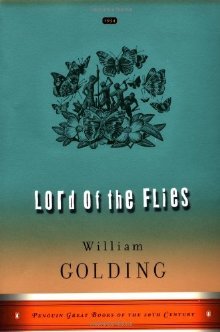 Lord of the Flies
by William Golding
Published:
October 1st 1999 by Penguin Books
Pages:
182
Lord of the Flies remains as provocative today as when it was first published in 1954, igniting passionate debate with its startling, brutal portrait of human nature. Though critically acclaimed, it was largely ignored upon its initial publication. Yet soon it became a cult favorite among both students and literary critics who compared it to J.D. Salinger's The Catcher in the Rye in its influence on modern thought and literature.
William Golding's compelling story about a group of very ordinary small boys marooned on a coral island has become a modern classic. At first it seems as though it is all going to be great fun; but the fun before long becomes furious and life on the island turns into a nightmare of panic and death. As ordinary standards of behaviour collapse, the whole world the boys know collapses with them—the world of cricket and homework and adventure stories—and another world is revealed beneath, primitive and terrible.Labeled a parable, an allegory, a myth, a morality tale, a parody, a political treatise, even a vision of the apocalypse, Lord of the Flies has established itself as a true classic.
"The thing is - fear can't hurt you any more than a dream."
The premise of
Lord of the Flies
had always intrigued me, to say the least. Then again, I never thought my first classic would be a story about a group of civilized boys, turning into wild animals. I wanted to understand what the world has been talking about since 1954. When I finally picked up a copy, it didn't take long before I was drawn into the world of these savage school boys.
I feel like this book is in the end, all about the hidden meaning and the symbolism. According to the author, no one can survive without any civilization. The savagery of boys like Jack is much stronger than intelligence or knowing the difference between right and wrong, resulting into a remarkable and well-executed evolution. Honestly, the development of going from preppy school boys to bloodthirsty animals is the best part of the entire book. Unbelievable or not, I was still kind of fascinated when events started to take a turn. After all, scared kids aren't the same as adult leaders. They tried to find their way towards responsibility and obedience, as it was clear how they tried to solve their problems. One way or another, their fear took over.
Blood was spilled more quickly than I imagined and the weirdness factor began to increase at an alarming amount. The vivid writing style helped a lot in adding that touch of gore to a book I already found to be disturbing. In the end, it wasn't as horrific as I expected it to be. Also some parts felt unnecessary and a bit confusing for me, and others were just hard to follow.
I didn't particularly feel much attachment to any of the characters besides Piggy. It was obvious he was going to be the loser from the moment he and Ralph met. I can't help but secretly love an underdog. Though he too stood for a specific value, he felt more developed and real to me than any other character in this book. Apart from all the other ones whose personalities looked so alike, there were only a few I could properly distinguish.
Lord of the Flies
was a very slow read for me, despite the fact that is was a thin novel. There no doubt about the excellent symbolism and development to savages, but unfortunately, I look for more in a book than just those two aspects. Not my cup of tea.