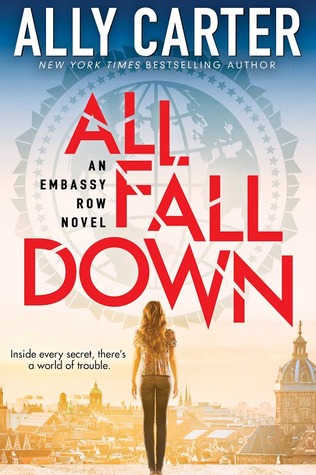 All Fall Down
(Embassy Row, #1) by Ally Carter
Published:
January 20th 2015 by Scholastic Press
Pages:
320
A new series of global proportions -- from master of intrigue, New York Times bestselling author Ally Carter.
This exciting new series from New York Times bestselling author Ally Carter focuses on Grace, who can best be described as a daredevil, an Army brat, and a rebel. She is also the only granddaughter of perhaps the most powerful ambassador in the world, and Grace has spent every summer of her childhood running across the roofs of Embassy Row.
Now, at age sixteen, she's come back to stay--in order to solve the mystery of her mother's death. In the process, she uncovers an international conspiracy of unsettling proportions, and must choose her friends and watch her foes carefully if she and the world are to be saved.
"Congratulations," I tell her with a slight bow. "I hope you and your power trip will be very happy together. Now, if you'll excuse me, it's time for me to go."
Thank you Orchard Books for providing me with an advanced reading copy for review.
Actual rating: 1.5 stars
I can't believe how much Ally Carter's
All Fall Down
disappointed me. Although I know having high expectations isn't always the best thing to do, yet what should have I done when I read such an awesome and promising synopsis? The combination of that premise and all the hype surrounding it, I knew I eventually would have to give in. So yes, I may be that one reviewer with the negative review, but in my opinion I have all the reasons for doing so.
I have to admit: it was love at first sight with Grace's attitude. I've always had a like for sassy and sarcastic characters, who let their opinion always shine through. To my surprise, this case turned out differently. The love for her character left as quickly as it came. As much as I loved her witty attitude, I grew a bit frustrated with her, especially when it came to her recklessness. There is nothing wrong with being a bit of a daredevil, but the more risks Grace took, the more I grew frustrated with her. After a while, I couldn't help but not be irritated by her character. In the end, all she really did was push everyone away and react sarcastically to everyone around her, even characters who didn't do anything wrong. I didn't care for anything Grace did or how reckless she was, though it still surprised me that no other character in this book could make up for it. It was only Megan who I felt some sympathy for. Unfortunately, it wasn't enough to make up for both the main character, and the sudden insta-friendship.
It's a custom in the reading community to have heard of the term 'insta-love', where it's love at first sight and lasts until they die. To my biggest surprise, Carter came up with a whole new term of her own: the insta-friendship. In this book, we see how a male character meet the heroine, and says they'll be best friends. I laughed at that, reassuring myself it's only meant as a joke. Suddenly, they are the best of friends. I felt like the whole development of going from strangers to friends to best friends, had been skipped. It made the rest of their relationship so flat and underdeveloped, it wasn't really enjoyable to read. Even now when I've finished the book, I wonder why. Unfortunately, I don't think I'll ever get an answer.
As I go through my long list of issues with
All Fall Down
, the setting is something worth to be mentioned. It wasn't all that believable, really. I did first love the world of the embassies, as it's something unusual to use in a young-adult novel and therefore, quite refreshing. What made me dislike it, was how much it turned out too look like an international high school. The so-called original idea was anything but original, and failed to leave an impression. Furthermore, it was a bit confusing at first when Carter chose a fictive country as her setting, but still blended in all the other countries which do exist. Maybe some can appreciate this decision. To me, it was plain weird and very confusing at first. I admit that I even had the urge to look up Adria on the world map, how stupid it may sound.
To write about the plot of the book, there's surprisingly not much to write. The book starts out on an interesting moment when you don't know much, although it was the ultimate reason why I was first so invested. There's also no doubt about Carter being a master in building up tension, and caused my growing interest in what might happen. Nothing happened. Early on in the book, I felt like the plot went off the nowhere, and made that growing interest disappear as quickly as it first popped up.
All in all,
All Fall Down
isn't anything like I first expected it to be. What could have been a great novel full of action and perfect for readers around the globe, turned into my disappointment of the year.