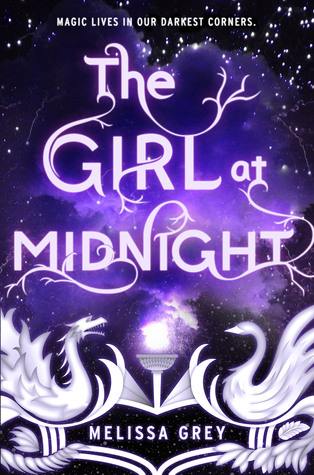 The Girl at Midnight
(The Girl at Midnight, #1) by Melissa Grey
Expected publication:
April 28th 2015 by Delacorte Press
Pages:
368
For readers of Cassandra Clare's City of Bones and Leigh Bardugo's Shadow and Bone, The Girl at Midnight is the story of a modern girl caught in an ancient war.
Beneath the streets of New York City live the Avicen, an ancient race of people with feathers for hair and magic running through their veins. Age-old enchantments keep them hidden from humans. All but one. Echo is a runaway pickpocket who survives by selling stolen treasures on the black market, and the Avicen are the only family she's ever known.
Echo is clever and daring, and at times she can be brash, but above all else she's fiercely loyal. So when a centuries-old war crests on the borders of her home, she decides it's time to act.
Legend has it that there is a way to end the conflict once and for all: find the Firebird, a mythical entity believed to possess power the likes of which the world has never seen. It will be no easy task, but if life as a thief has taught Echo anything, it's how to hunt down what she wants . . . and how to take it.
But some jobs aren't as straightforward as they seem. And this one might just set the world on fire.
"She had gone to the library in search for hope, but what she'd found instead was a child. It would take her many years to realize that the two were not so different after all."
Thank you Delacorte Press for providing me with an advanced reading copy for review.
Actual rating: 4.5 stars
How to start a review of a book one loved so much? I was already convinced of Melissa Grey's writing and talent after I read the magical and haunting prologue. I knew this book was going to be different from other young-adult novels I'd already read, and I was right.
The Girl at Midnight
is highly entertaining, highly original and is worth all the hype surrounding it.
I felt like it was love at first sight with literally everything in this book. Starting off with the world, I applaud the author for creating such an enchanting and mysterious world. As I was already sold from the very beginning, it didn't take long before I completely lost myself in the world and the epic battle between two ancient races. Everything was wonderfully done, especially the two races themselves. I have a weak spot to discover entirely new beings. Vampires, werewolves and zombies are currently too overused and I longed for something unique to become obsessed with. That was done when the Avicen and the Drakharin were introduced. Two human-like races, one with feathers and the other with scales. I couldn't help myself to not be fascinated by this idea that was delivered just perfectly.
Because of the plot revolving around this mysterious legend of the firebird, it suited the world and the overall tone of the book just perfectly. The beginning immediately left me craving for more. I flew through the pages in order to know more, and I wasn't disappointed. Page by page, bits and pieces of information were revealed which led to long reading sessions. The story itself was build up very nicely. Through Grey's beautiful writing style, it gave me a clear and vivid imagine of everything, it also left a lot of space to fill in with my imagination. I did have a bit of a struggle with the plot around two hundred pages in. By then I'd already seen a lot of the world, but the characters themselves didn't do anything in order for the story to continue. They traveled to places without anything really happening. It made it easy for me at times to set the book down. However, the more I got to the climax of the book, the more things started to fall back into place. Action jumped in at times when it was needed, combined with a smart twist at the end.
There's no denying my love for almost every single character in this book. Apart from characters you're supposed to dislike, I found myself a protagonist, a love interest, side characters and a villain I couldn't help but love. Starting off with the main character, she's that kind of young-adult character that kicks ass. Being a pickpocket, she's used to danger which makes her a bit reckless, but also a very fearless and brave character. Throughout the story she makes smart decisions and doesn't back down for a journey. What I adored about her character was the ordinary things she does. Despite the world she's used to, she's just a normal teenage girl who tries to maintain a rather normal life.
Despite my fondness for the first love interest, I fell head over heels for the one who came next. This might feel a bit like a love triangle, but it is nothing like that. Both myself and the main character forgot the current boyfriend very easily when the Dragon Prince stepped into the picture. Being the "immortal" being he is, he was such a complex yet a fascinating character. Every character in this book is, really. As soon as they set off on their journey, some romances and friendships start to develop. I'm guilty to again falling in love with every one of them. Because everyone was so complex and different, it therefore made their relationships also truly interesting to read about. Even the villain herself, who felt to me like a vicious and twisted version of Daenerys Targaryen.
The Girl at Midnight
is the start to a series I cannot imagine where it would head to next. All I know for now is that I'm in.