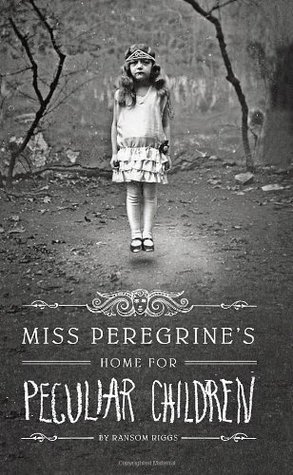 Miss Peregrine's Home for Peculiar Children
(Miss Peregrine's Peculiar Children, #1) by Ransom Riggs
Published:
June 7th 2011 by Quirk
Pages:
352
A mysterious island. An abandoned orphanage. A strange collection of curious photographs.
A horrific family tragedy sets sixteen-year-old Jacob journeying to a remote island off the coast of Wales, where he discovers the crumbling ruins of Miss Peregrine's Home for Peculiar Children. As Jacob explores its abandoned bedrooms and hallways, it becomes clear that the children were more than just peculiar. They may have been dangerous. They may have been quarantined on a deserted island for good reason. And somehow—impossible though it seems—they may still be alive.
A spine-tingling fantasy illustrated with haunting vintage photography.
"We cling to our fairy tales until the price for believing in them becomes too high."
Miss Peregrine's Home for Peculiar Children
is the kind of book I have been wanting to read for a lifetime, even when I didn't know what it was actually about. I could make my assumptions based on the memorable cover or the eerie premise. Unfortunately, my high expectations were let down when this book turned out to be something I wasn't interested in reading.
So despite the fact that
Miss Peregrine's
is quite a let-down, the plot was the only thing which made me want to continue reading. It was so different and unlike anything I'd read before, though not gripping enough. There still were so many little things that could made me like it. I loved the creepy setting and the mystery. Especially the photographs that gave this book its final touch and suited its overall tone just perfectly. However, they were not enough to forget about all the other trouble I had while reading. The pacing for example, was not that great in my opinion. It took far too long for things to start happening and secrets to start unraveling. By the time they did, my interest was long gone I didn't bother to search for it again.
The characters themselves were dark and contained the same mysterious tone that drifted along the book. Their peculiarity caused them to have abilities, some common and used before, but others completely unique and interesting to read about. When it comes to their personalities, there was not much to be found. It surprised me, because you would expect that these children all have an intriguing story to tell. As the book continued, I began to lose track of who was who and which ability belonged to which child. In the end, they were all a jumble of abilities instead of developed characters.
Was there really a romance to be found in this novel? Because the relationship between Emma and Jacob was too weird for me to call it one. They realised it was bizarre from the start, but fell in love anyway for no particular reason. I sensed even more chemistry between Emma and her former lover than she and Jacob had. As the book progressed, I still found it weird and it didn't come across as believable or a well-developed romance.
I spent to two weeks reading this book, even though it feels like a whole month. I was hoping to find something towards the end so I could like
Miss Peregrine's
after all. When I did not find what I'd been looking for, I realised I couldn't force myself to like a book that has been praised by many, and frankly, I don't mind. I wasn't invested in the story, the characters or the odd romance.
Miss Peregrine's Home for Peculiar Children
is a book you either love or you don't.