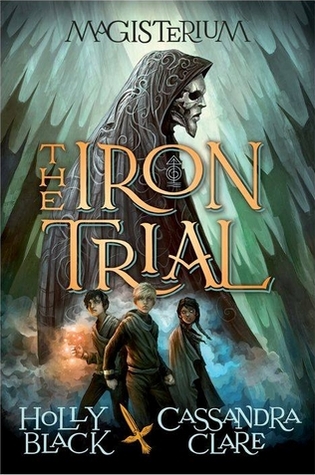 The Iron Trial
(Magisterium, #1) by Holly Black and Cassandra Clare
Published:
September 9th 2014 by Doubleday Children's Books
Pages:
295
A powerful new fantasy series from global bestselling authors Cassandra Clare and Holly Black.
From the imaginations of bestselling authors Holly Black and Cassandra Clare comes a heart-stopping plunge into the magical unknown.
Think you know magic?

Think again.

The Magisterium awaits...

Most people would do anything to get into the Magisterium and pass the Iron Trial.
Not Callum Hunt.
Call has been told his whole life that he should never trust a magician. And so he tries his best to do his worst -- but fails at failing.
Now he must enter the Magisterium.
It's a place that's both sensational and sinister. And Call realizes it has dark ties to his past and a twisty path to his future.
The Iron Trial is just the beginning. Call's biggest test is still to come...
"As he bent closer, he realized they were words -- words his wife had carved into the cave ice with the last of her dying strength. As he read them, he felt them like three hard blows in the stomach.
KILL THE CHILD"
Thank you Doubleday Children's for providing me with an advanced reading copy for review.
By reading
The Iron Trial
, the first book in the
Magisterium
series, I think I have signed up for an amazing adventure. Even though this book seems more like a set-up for what's still to come, I immensely enjoyed reading the story of Callum Hunt and his first experiences with the Magisterium. Now let's head into the deeper stuff.
Starting off with the characters, a lot of them already have my love. All well developed and each with their backstories. All of those quickly caught my interest, and I started to care for a lot of the characters. Not only Callum with his snarky comments, or Tamara who easily stands up for herself, or Aaron with all the surprising events involving him. Other characters such as Jasper, Celia, Drew,Warren, Rufus, and Alistair form a surprisingly fantastic combination with the other three main characters you'll get to love. And Havoc. I can't ever forget that cute little wolf I would adore to adopt, if not for that little thing.
Moving onto the world, I am thoroughly drawn into it. It is without a doubt, suitable for the story and genre and is most of all, original. I'm rather sure when I say you have never come across a world like this. The world itself is a lot more darker than you would normally encounter with a middle grade. Surely I was quite surprised with that, because I honestly didn't expect it to turn out like this. On the other hand, that doesn't mean I liked it less. In fact, because of this surprising touch to it I enjoyed it so much more. I understand why Call doesn't want to leave anymore at the end of the school year. I wouldn't either. Intriguing is the number one word to describe it all. The world of Magisterium has compelled me. Even though
The Iron Trial
is the first book and focuses on the world building and its history, there is still a lot undiscovered and I would love to read more about it.
The only thing that fell a bit short and so caused the four stars instead of the five, was the plot and pace in general. I didn't feel like there was much plot present in this book because of the constant amount of world building and character development. I didn't like how they were trained as apprentices and I would have loved to gain some more insight on their training as a whole. I still wonder what the actual meaning was of the sorting out of the sand. It surely increased their focus and patience, yet I do hope that some more action-packed lessons are set for the sequels.
Feel free to set those prejudices towards this book because it's supposedly a Harry Potter rip-off aside, and let me tell you why. Just because J.K. Rowling wrote a world-wide known series about wizards and witches, doesn't mean that the woman holds the copy right to everything written in that particular genre. I do understand that it's never possible to completely write a book different to Harry Potter or Percy Jackson. Once you head towards that particular genre, you'll always going to end up with similarities, no matter how hard you try. There will always be someone calling it a rip-off from something else. But let me repeat myself again: it's not because someone else gets wildly popular in a particular genre that it's impossible for others to write in that genre too. Dear God, for now I'm patiently waiting until everyone reads this book and then all stop with judging.
So to everyone out there thinking this was going to be yet another Harry Potter rip-off: it isn't.
The Iron Trial
is a magical thrill ride on its own and filled with amazing characters, plot twists and a fascinating world. Despite the small resemblances to other middle grade's I've read and the slower pace, I still loved reading the book. I cannot wait to see what the rest of the series holds, but I don't think I will have the patience to wait another year. Dammit.