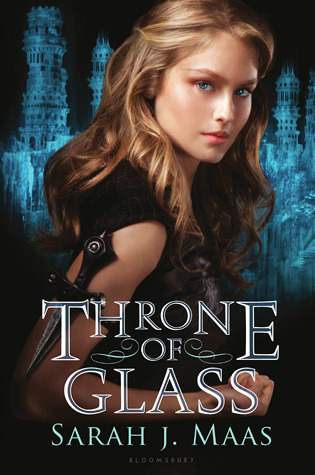 Throne of Glass
(Throne of Glass, #1) by Sarah J. Maas
Published:
May 7th 2012 by Bloomsbury USA Childrens
Pages:
404
In a land without magic, where the king rules with an iron hand, an assassin is summoned to the castle. She comes not to kill the king, but to win her freedom. If she defeats twenty-three killers, thieves, and warriors in a competition, she is released from prison to serve as the king's champion. Her name is Celaena Sardothien.

The Crown Prince will provoke her. The Captain of the Guard will protect her. But something evil dwells in the castle of glass--and it's there to kill. When her competitors start dying one by one, Celaena's fight for freedom becomes a fight for survival, and a desperate quest to root out the evil before it destroys her world.
"We all bear scars. Mine just so happen to be more visible than most."
Actual rating: 3.5 stars
Throne of Glass
is one of those novels that everyone loves and praises like it's the holy grail. Its hype definitely didn't escape me, even though it took me a long time to actually read it. I blame my huge to-read list for that. I was warned for the love triangle, yet there was still something about this book that made me still want to read it. I think it probably had a lot to do with the premise of a combination of
The Hunger Games
and
Game of Thrones
. It eventually turned out to be something completely different, yet I found myself enjoying this immensely.
There no doubt about it that the
Throne of Glass
series is high-fantasy. In these cases there is always a lot of world building needed to have a basis for the story to continue on. After all, there's no story to be told without a setting. Therefore it explains why this book is focused on bringing the world into view, and why I was so lost in it. The world of Erilea is fascinating, and the author definitely did a wonderful job in achieving the wished amount for the series to start with. It has the elements of the ordinary high-fantasy novel, but with other unique touches to it such as the king with an iron hand, the Glass Castle and countries such as Eyllwe make it stand out. The magical places in the world where all the magic is wiped out are appealing, and I wonder whether that will have an impact in the future books. For now, I know that I would love to read more books set in this captivating world.
The beautiful world of Erilea set aside, the issues I have with this book are still here and unfortunately, need to be written about. One of the less important issues had to be the romance, more specific the love triangle. Let me put the idea of me hating these triangles aside, because I don't. My thing with love triangles has a lot to do with the involvement of two people who fight to eventually win the heart of the person they both love. Because of the two people, involved, there always has to be one who tastes defeat. (Except for that one particular trilogy I read but I'm not going to mention because of spoilers.) Besides that, I really don't mind. I actually like what might happen concerning the romance. For now, I know that I root for Chaolaena although I'm very uncertain of their chances. Maybe this is the sort of the triangle where it's already obvious from the first book who the protagonist is going to end up with, and I would seriously hate it to be like that. I feel like Chaol needs to have his shot just because the poor thing deserves to, and because Dorlaena have absolutely no chemistry and their relationship feels way too forced.
An issue that actually did matter the most to me was Celaena's character. I have to admit that the first mentions of her thirst to kill and viciousness made the impression that she was a character I would love. It seemed like she wasn't afraid to kill and use everything she had in her to accomplish what she wanted. All those impressions I first got of her still remain the same, there's no doubt about that. What also became clear when I progressed with the book, were the references to how skilled Celaena is. It would have been okay, if I actually saw more of that. Because she had to keep an eye open and she couldn't show her real self until the very end. I know that I'll get to see much more of that in the sequel, but for now, it annoyed me more than I would have liked to, and made Celaena resemble to a Mary Sue.
Other characters in this book already seem to have a special place in my heart. Both Chaol and Dorian have personalities and backgrounds that I'd love to see more of in the future, but especially Nehemia is a character I first hated when she made her introduction. Call me mad, but I had several prejudices regarding her character and her actions, that in the end all turned out to be false. Throughout the book and against my prejudices back then, I kind of started to like her. There was something about her that was fascinating, and the growing friendship between her and Celaena is fun to read. I hope to see more of her in the future books.
While the world in
Throne of Glass
is extraordinary, the plot didn't seem like it. In my opinion it's a combination of things I've seen before. For some reason, the other Champions disappearing in a so-called mysterious way reminded me too much of
Harry Potter and the Chamber of Secrets
. I don't know where I ever got the comparison, yet once I had it in mind it was impossible to put that thought aside. The plot itself was way too predictable for my taste. I first didn't want to believe myself because if it actually would turn out to be true, then it would be way too obvious. There had to be some kind of trap, to make us think that it was someone when it actually was someone else and there would be a big plot twist, etc. Unfortunately, nothing happened. It turned out to be the person everyone suspected all along. However, once the killer showed its true colours, it all started adding up to create an epic climax at the end of the book. If there's one thing for sure, the climax didn't fail to keep me on the edge of my seat and force back possible tears.
Even with the several issues I found myself having while reading
Throne of Glass
, I still wonder how I was capable of enjoying this to the fullest. Maybe it was because I was so invested in the world, the characters and the story that I didn't have the time to order my thoughts properly. I'm interested where the story, and the romance, might be heading. All I know is that I stand with Chaol and that I will be picking up the sequel,
Crown of Midnight
, very soon!