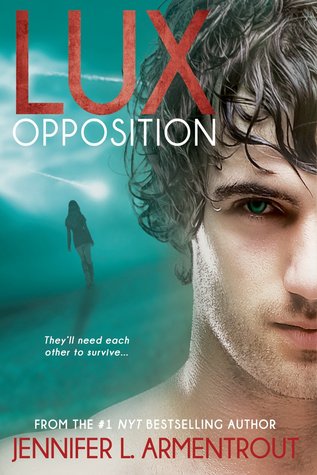 Opposition
(Lux, #5) by Jennifer L. Armentrout
Published:
August 5th by Entangled Teen
Pages:
500
Katy knows the world changed the night the Luxen came.

She can't believe Daemon welcomed his race or stood by as his kind threatened to obliterate every last human and hybrid on Earth. But the lines between good and bad have blurred, and love has become an emotion that could destroy her-could destroy them all.

Daemon will do anything to save those he loves, even if it means betrayal.

They must team with an unlikely enemy if there is any chance of surviving the invasion. But when it quickly becomes impossible to tell friend from foe, and the world is crumbling around them, they may lose everything-even what they cherish most-to ensure the survival of their friends...and mankind.

War has come to Earth. And no matter the outcome, the future will never be the same for those left standing.
"We were supposed to have tonight and tomorrow, and many weeks and months, but we didn't have even another minute."
I would like to make something clear. I'm really not that good of a reviewer when it comes to writing one of a conclusion to a series. Usually a review like that is consisted of paragraphs of constant fangirling, yet always in a proper manner. It also consists possible spoilers, so be warned. Now, I am always a bit scared when it comes to reading the last book in a series. Perhaps it could be so bad that it would ruin the entire series.
Opposition
is nothing like that. I enjoyed reading this to the fullest.
Unlike its predecessors,
Opposition
's plot is action-packed from beginning to end. If you thought we were already past the enormous conflict at the end of
Origin
, think again. I for one, absolutely adored the post-apocalyptic setting the author created for this book. There's a constant flow of fights and innocent people dying. The world is in chaos, and you actually don't know who the real bad guys are anymore. Besides that awesome vibe that was created throughout the book, I thank the Harry Potter references. After all the devastation some lighthearted moments were needed. Since the romance didn't do it for me, those references had me laughing at the right times. Together with the surprising plot twists, they added that little extra to this book which made it stand out even more.
My favourite example:
"Jesus. It's like I'm a muggle to your pure-blood or something."
After pages and pages of destruction, hope has returned when a new goal is in sight. From there, it all starts to build up slowly to eventually reach the epic climax we've all been waiting for. Even though it was awesome and did reach my expectations, the highly anticipated climax was over way too soon. I don't know if I was expecting a fantasy-like immense fight where blood would be shed and chaos would be the key word, but I did expect some elements of it. For example those little extra scenes that could have messed with my emotions even more and left me gasping. I'm not saying this was bad, probably a personal matter, but it could have been better.
The slight disappointment was quickly forgotten when I came to the epilogue. Epilogues are in my opinion nothing but that beautiful extra chapter that makes you cry rivers. I loved how the world evolved after the arrival of the Luxen, but especially where everybody ended up. Kat picking up her old life with the books and the blog was heartwarming, and Daemon's support was that extra touch to their beautiful relationship.
Dee's absence in practically the entire book was unbearable. Having her back with her family, the chemistry between her and Archer, it was all bittersweet and touching and I adored it. I do would have liked to see their relationship grow instead of seeing the results in the epilogue. Yet if that was the case, this book would have been a lot longer than it is now. I've grown to love every character of the Lux series. Even the minor characters, which quickly became clear in this book. The death of a certain minor character still brings pain to my heart. I should have seen it coming, and my heart broke when Katy found out. Moving on. All the characters that I was first introduced to in
Obsidian
aren't the same anymore. I'm proud to see all of them develop into the beautiful people they are now.
Although the plot is action-packed all the way through, I did found myself struggling with the first half of the book. The struggle itself had nothing to do with the actual plot, however it did concern the romance, more specific the romance between Katy and Daemon. As stated in my review of the previous book,
Origin
, there was this small issue I had with the romance that totally ruined the last pages of the book for me. I've grown to love Katy for her responsible behavior and that she mostly thinks before she acts, but what she and Daemon suddenly decided to do was reckless and stupid. It seemed to have come out of desperation, not out of love. Because that particular event took place, the results of that were clear in
Opposition
. Their love for each other suddenly didn't seem real anymore to me. Their love for each other soon started to resemble undying and forever and ever, which quickly turned into plain annoying. Their chemistry didn't feel real anymore to me, no matter how many sex scenes appeared in this book.
If it was for the romance alone, I would have closed this book with no further intention to pick it up again. I was already near sixty percent when the annoying romance suddenly were nowhere to be found. The abundance of sex scenes stopped, and their promises to each other of eternal love developed into realistic dialogues. The beautiful romance I've shipped since
Obsidian
came into the picture again. Let's say it had me crying my eyes out at the very end. I didn't want Daemon to die. Partly because of what Katy already had lost, but also because it couldn't be that the author would break my heart right after I was totally rooting for those two again. The unexpected happened, and by then my emotions were a mess. I just wished the first half of the book had been like this, because it irritated me way too much than I would have wished to. Every relationship has its darker period I guess.
Opposition
can easily be compared to a roller coaster of emotions. I laughed, I was on the edge of bursting into tears but didn't because I was in a public area and the action-packed scenes had me flying though the pages. This book is an action-packed journey I can't believe I have to say goodbye to. It's sad that I won't be able to read more about characters I love. Looking at the series overall, I seem to agree with everyone else and say that this book is nothing but an excellent conclusion to a wonderful series. Now it's only a matter of time and wait for the spin-off series.